From 2013, the "Editorial Designing in the Media" course was established in the Faculty's Global human resource development" as one of the elective courses, (Instructors: Kayoko Nohara, Hiroshi Tsuda, and Norihiro Kawasaki). The lectures from the end of June for three consecutive weeks in intensive courses.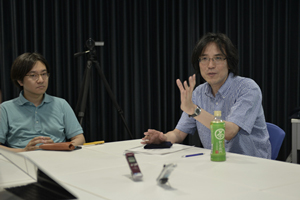 In the course, instruction is provided on professional editing and design professional, and through workshops we will learn how media are made.
Week 1: Media principles
As an approach to media-editing, we will hold a brainstorming about the complexities of roles of media in modern society. The media, the significance of the means, the interface between the provider and recipient, content delivery, etc. In addition, what is best to add value and understand media mechanisms.
Week 2: The fundamentals of design.
We drew what is a design for me on a piece of paper. By discussing "what is design" each other, we broadened our world of the design. On this basis, develop the media focus of the design, and deepen understanding.
Week 3: The actual work and presentations.
From the first time issued topic (Tokyo Tech Attraction) statement and using photos, we continued to the second week to learn about creative expression. Finally, the "Tokyo Tech Attraction" theme was developed from the standpoint of class students and expressed in text and photos on one sheet of A4. A complicated work on 1 page was completed.
In the small numbers of students workshop format, the student will, in fact be able to express their own thinking and practically deepen their thinking. Even the students who were nervous at the beginning began to relax and participate. Finally they gave the impression of keenly wanting to engage and complete the challenge.
Schedule
June 20, 27, July 3 13.30 - 16.30
Tokyo Institute of Technology Ookayama Campus West Building No. 1 classroom 2
Participants
4
Staff
Professor Kayoko Nohara Tokyo Institute of Technology
Film Art Editor-in-chief," Hiroshi Tsuda
Creative Director AZ Holdings," Norihiro Kawasaki