This year, we held the 4th year of the Musashino Art University Joint Workshop on "Concept Design No 4."
This WS, developed a visual design from a concept derived from discussion on a single theme. It is not to answer the question is it good or bad, but take to the stage of the shape of an idea and importance of a range of possibilities, discovery, trial and error, and not overlooking something ... We will work with students of the Musashino Art University.
The theme this time is "Connecting adult and child".
[Implementation guidance: Wednesday July 17]
Professor Hiroshi Imaizumi of Musashino Art University and Professor Kayoko Nohara will give a pre-WS lecture for Tokyo Tech students "Beauty and Size- What sort of thing are you doing? " and "Basic drawing for design".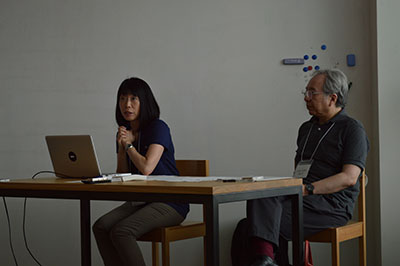 [WS day 1: Monday July 29] Roppongi D Lounge at Musashino Art University
Group members first meeting. After breaking the ice, start talking. The group to come up with ideas and stick onto the wall.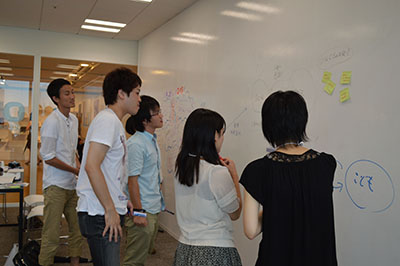 [WS day 2: Tuesday July 30] Tokyotech manufacturing research and education Support Center
On the basis of discussion on Day 1 form some ideas. This year polystyrene foam, and wire can be used. At the end, an intermediate announcement by each of the groups.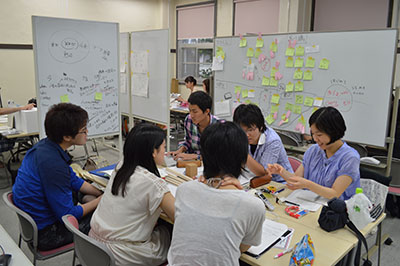 [WS day 3: Thursday August 1] Tokyotech manufacturing research and education Support Center
The end game for manufacture. Pulling together the ideas, assiduously working to manufacture and also fired up for the final day.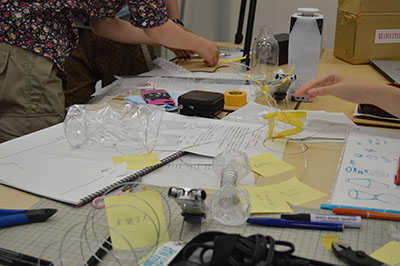 [WS day 4: Friday August 2] Roppongi D Lounge at Musashino Art University
Final presentation. Announce the refined concept developed during the 4-day WS. What concept has been derived from the "adult and child linking" theme. Some sharp comments may come from outside guests, but we are in a friendly atmosphere, and will decide the excellent work. Everyone to take part in a group photo. End of an intense 4-days.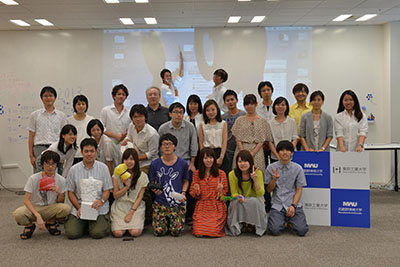 Impressions after the class
- They got some energy. The Musashino students were very keen to build something.
- After the lecture on methods, there is also the opportunity to practice that was acquired.
- Most of the Musashino students have broadened their thinking and framework, and I sense that they got an opportunity to be more outward looking.
[Schedule]
2013
Wednesday July 17 13:20-14:50 pre-guidance
Monday July 29 - Friday August 2 13:30-16:30 workshop
[location]
Musashino Art University design lounge (in Roppongi Midtown).
Tokyo Institute of Technology Manufacturing Education Research Support Center
[Participants]
10 Musashino Art University, 9 Tokyo Tech students
[Staff]
Professor Kayoko Nohara Tokyo Institute of Technology
Professor Akira YAMADA of Tokyo Institute of Technology
Other guest lecturers